A new version of the Family Pokemon Card Game is coming this year.
This should be the successor of the now 2 year old Japanese Family Pokemon Card Game set, that released on March 15, 2019.
There will be 2 variants of this product. 1 variant that includes 2 60-card decks with Cinderace V and Pikachu V and will cost 1210 yen. 1 version that includes 3 60-card decks including Cinderace V, Pikachu V and Tyranitar V and will cost 2398 yen.
Update: Dummy pack images added. Our Patreon Supporter Kevin from the Youtube Channel Madden Gaming, has provided us of these images. We thank him for informing us.
These are 3 basic decks for new players on how to learn to play Pokémon TCG.
These products have now been listed for pre-order by some Japanese stores. When the sell sheet with the product information and dummy artwork has been revealed, we will update this article.
Both products release on July 9, 2021, the same day as the Japanese July set S7D / S7R Skyscraping Perfect / Blue Sky Stream releases.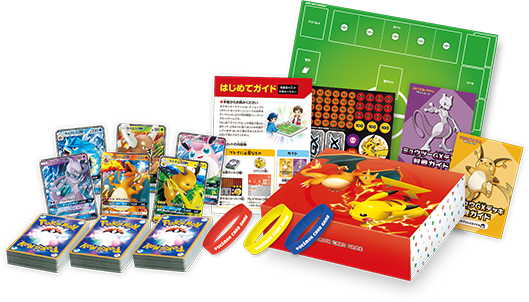 Previous version of the Family Pokemon Card Game set
Pokemon Card Game Sword & Shield Family Pokemon Card Game Anytime, Anywhere (Version 1 with Cinderace V and Pikachu V)
Price: 1210 yen
"Cinderace V" deck (60 cards) 1x
"Pikachu V" deck (60 cards) 1x
1x Sheet: Damage counter / Burn / Poison marker
Half playmat 2x
Pokemon coin 1x
(Storage) deck box 2x
Pokemon Card Game Sword & Shield Family Pokemon Card Game (Version 2 with Cinderace V, Pikachu V and Tyranitar V)
Price: 2398 yen
"Cinderace V" deck (60 cards) 1x
"Pikachu V" deck (60 cards) 1x
"Tyranitar V" deck (60 cards) 1x
Pokemon coin x1
1x Sheet: Damage counters (100 Damage counter: 6x / 50 Damage counter: 12x / 10 Damage counter: 35x) / Poison / Burn Marker (1 each)
(Storage) deck (rubber)band 3x
Playmat

1x
Battle guide books 2x
Beginners guide 1x
Battle table 1x sheet
Damage counter case 1x
(Storage) Deck box 1x